Getting tired of Bots?
We will help you to achieve your goals and to grow your business.
It's not even funny anymore..
Do You Really Know Where Your Web Traffic is Coming From?
We have seen situations where competitors hire Click Farms in different countries to click on ads all day.
This is a real issue these days, the main thing is to stop it before it begins and we can help you.
You own a website and you are trying to get visitors to it, but have you asked yourself these key questions?
Is your traffic coming from your local targeted area or no?
Are they coming to your site to harm it?
What do you know about those who are visiting your website?
Are they trying to steal your personal or business information?
Have you ever wondered where they come from?
Do you know how much they have engaged within your website?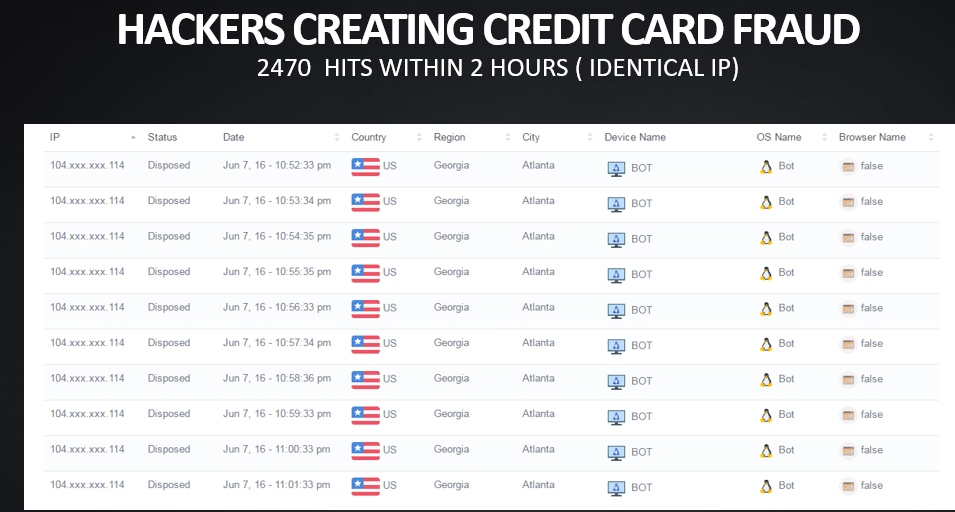 Now, here is a much easier question: Is Google Analytics the best tool to track what is happening on your site?
I hope you answered that question with a big fat FALSE, FALSE, FALSE!! Google Analytics is showing you only a small part the story.
Does your website have Cyber Cancer?
Stage 1 is Traffic:
What is Cyber Cancer? Cyber Cancer has 4 stages. "Marketers could lose as much as $7.2 billion globally in 2016 without an increased focus on click security." -Association of National Advertisers Study (Jan 2016) This affects both paid and organic traffic. Whether you are focusing on paid online advertising or organic SEO most likely your website has Cyber Cancer. The question you have to ask yourself is HOW MUCH OF YOUR TRAFFIC IS MALICIOUS?
For a click fraud case study contact us today .
Stage 2 is Analytics:
"63% of millennials use ad blockers, 33% do not, and 4% don't know"- eMarketer.com Study (September 2016) Google Analytics and (mostly) all of the other anaytics software out there are Java based. If that many people are using ad blockers your website traffic numbers that you think is the truth is squed. Our Siphon software
Stage 3 is Conversions:
If you aren't seeing the truth about your website traffic or your analytics, your conversions are definitely going to be hurt. You will end up with false information in your customer relationship management (CRM) and when that happens it will hurt your email reputation. Then when you test offers based on bad data all your campaigns and retargeting are off.
Stage 4 is Your Revenue:
Merchant Bank Accounts Get Suspended
"Using Siphon has been a great experience. We hooked up Siphon onto our websites and watched our fraud traffic decrease immediately. Siphon really helped keep our charge-back ratios down and our merchant accounts in good standing. I am confident in knowing our websites are more secure and we are catching fraud traffic. "
– Siphon User
Let's Get Started Today With
Your Project